Mobile Boat Show
Show Location:
Mobile Convention Center, Mobile, Alabama
Show Dates:
Friday, February 26, 2021 through
Sunday, February 28, 2021
Show Times:
Friday: 12:00 pm - 8:00 pm
Saturday: 10:00 am - 8:00 pm
Sunday: 10:00 am - 5:00 pm
Show dates and hours are subject to change.
Admissions:
Adults: $10.00
Children (15 and under): Free
Military gets $2.00 off
Prices are subject to change.
The Mobile Boat Show showcases a huge selection of new boats of every make, style and size from all the top dealers offering show specials that you do not want to miss. The show also offers a big variety of marine products, motors, trailers, fishing tackle and other fishing related items all in one place for your convenience. The show will also have seminars, performances and competitions something for everyone in the family. This boating event will be held at the Mobile Convention Center.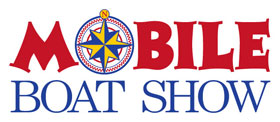 Information about this was obtained from various sources and is thought to be correct. We strongly recommend that you contact the show producer to confirm this information. See the bottom of this page for informaiton on how to contact the show producers.