The Miami International Boat Show is one of the world's largest and greatest boating events. The Show features thousands of the newest powerboats, sailboats, engines, electronics and marine accessories from more than 2,000 manufacturers. There will be everything from personal watercraft and performance boats to sport fishers and mega-yachts. The Miami Boat Show takes place in two locations the Miami Marine Stadium Park & Basin and Miamarina at Bayside. At Miamarina at Bayside is the Strictly Sail Boat Show and you'll find sailboats, sailing accessories and gear from all over the world including a huge selection of catamarans. This show offers something for every boating lifestyle and budget.
Amazing locations, over 3,000 boats, and more than 2,000 exhibitors! The Miami International Boat Show surely promises to be one of the most happening places to be at in this new boating season! Spread across the Miami Marine Stadium Park & Basin, and Miamarina at Bayside, this five day event has all it takes to make any boat show a success.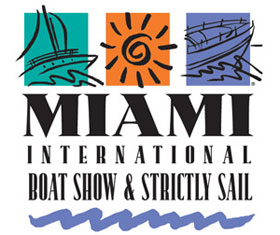 Displaying from the latest range of powerboats, engines, sailboats, marine electronics, accessories, nautical services, gifts, and clothing; the Miami International Boat Show provides you with a great opportunity to compare all of the offerings and make an informed choice from a wide variety of products. This event offers you a wonderful platform to equip yourself with all the latest trends in the boating world.
Information about this was obtained from various sources and is thought to be correct. We strongly recommend that you contact the show producer to confirm this information. See the bottom of this page for informaiton on how to contact the show producers.