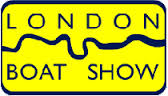 The London Boat Show will be featuring an enormous number of yachts and boats on display. You will find them on land and in the water and they will include, but of course not limited to, power boats, sailboats, cruisers, performance boats, ski boats, sport boats, personal watercraft and motor cruisers plus hundreds of exhibitors offering the latest in boating products, parts, diesel engines, marine accessories, generators and engine servicing.
At prior shows, the watersports action pool offered opportunities to try sailing, windsurfing, and wakeboarding or stand up paddle boarding for free. There will be many experts on hand to share information and advice on all of your equipment, testing and fitting needs.
Visitors & exhibitors to the London Boat Show have been inspired by prior year's shows which managed to generate the all-important "WOW" factor. This year the show will build on last year's momentum. The London Boat Show is a vital event on the international boating and yachting calendar and welcomes marine exhibitors, launches, products and boating accessories from around the world. The show is sure to be an outstanding experience for all who attend.

Information about this was obtained from various sources and is thought to be correct. We strongly recommend that you contact the show producer to confirm this information. See the bottom of this page for informaiton on how to contact the show producers.