Lake of the Ozarks April***EVENT CANCELLED***
Show Location:
Dog Days Bar & Grill @ 19MM, Osage Beach, Missouri
Show Dates:
Friday, April 17, 2020 through
Sunday, April 19, 2020
Show Times:
***EVENT CANCELLED***
Friday: 1:00 pm - 7:00 pm
Saturday: 10:00 am - 7:00 pm
Sunday: 10:00 am - 4:00 pm
Show dates and hours are subject to change.
Admissions:
***EVENT CANCELLED***
Adults: $6.00
Children (12 and under): FREE!
Prices are subject to change.
Lake of the Ozarks April In Water Boat Show, Osage Beach, Missouri

The Lake of the Ozarks Marine Dealers Association (LOMDA) is presenting its annual April In Water Boat Show. The Association represents over fifty Lake of the Ozarks marine boat dealers. The participating dealers will be offering their entire line of new yachts, cruisers, fishing boats, ski boats and pontoon boats along with their used trade-ins and brokerage boats. Additionally, there will be all kinds of boating accessories and necessities including boat lifts, custom made docks, boat trailers, boat covers, boat motors and marine electronics. Financing and insurance will also be available on the premises. There is a good chance that you may find the marine parts and accessories you need and of course there is the latest in personal watercraft along with paddle boats and jet skis so you can have fun on the local waters. This is what you will find at this year's boat show from the boat dealers and marine vendors. They have promised more boats and more brands this year than ever before as well as more fun!

Are you ready for this new boating season? Come to the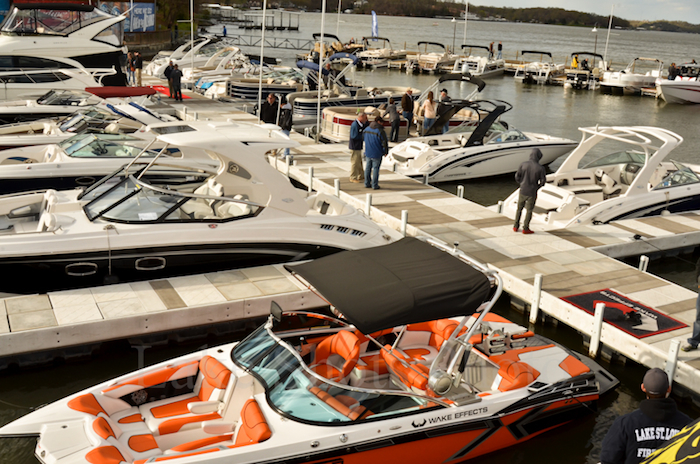 boat show and get everything you need or just browse and see your options for later so you can enjoy boating on their beautiful Lake of the Ozarks Lake. The location and home of the show is at the Dog Days Bar and Grill at 19MM in Osage Beach, Missouri. The Dog Days Bar and Grill is in the heart of Osage Beach serving the Lake since 1993. If you want good food while at the show Dog Days features steaks, seafood, pasta, gourmet burgers, fresh salads, tasty appetizers and their signature frozen cocktails plus live entertainment for your enjoyment. We hope you have an enjoyable time…
Information about this was obtained from various sources and is thought to be correct. We strongly recommend that you contact the show producer to confirm this information. See the bottom of this page for informaiton on how to contact the show producers.