To find the best local boating lifestyle locations visit our
Seattle Boating Activities page.
The Lake Union Boats Afloat Show has been an annual tradition for decades in Seattle and should be on every boater and want-to-be boater's calendar. The show features hundreds of new and used powerboats, sailboats, yachts, mega yachts, trawlers, cabin cruisers and sport boats from eighteen to one hundred feet a great variety. All boats on display floating on South Lake Union at Chandler's Cove ready for you to board, browse and compare. Each year there are always some exciting new models, both power and sail. The show has it all you are bound to find something perfect for you and your family to enjoy life on the water.
The Lake Union Boat Afloat Show also features exhibitors and vendors located shore side offering professional services including insurance, marine finance, yacht maintenance and yacht linens, resorts and yacht clubs, charters and yacht leases plus marine electronics, seats and canvas, sails and sailing equipment, engines, marine products and sports equipment. Just about anything and everything boaters need or have been looking for will be at the Lake Union Boats Afloat Show.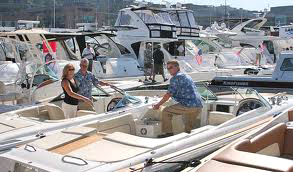 Some Highlights for 2014:

~ There will be FREE sailing lessons for kids. Contact info@boatsafloatshow.com for additional information and to sign up for the free lessons in advance. The lesson schedule is Friday: 1 PM, 3 PM, Saturday: 11 AM, 1 PM, 3 PM and 5 PM and Sunday: 11 AM, 1 PM, 3 PM and 5 PM.

~ How about FREE sailing rides every day at the show for folks of all ages. Rides will be about 45 minutes in duration and will run continuously, every day, throughout the show. To take advantage of this opportunity check in at the Discover Sailing booth. This will be located in front of Chandler's Crabhouse restaurant.

~ FREE hands-on toy boat building for kids using traditional tools. This opportunity will be available on Saturday: 10 AM – 6 PM and Sunday: 10 AM – 6 PM.

~ Other activities and attractions will also be available.

Information about this was obtained from various sources and is thought to be correct. We strongly recommend that you contact the show producer to confirm this information. See the bottom of this page for informaiton on how to contact the show producers.