La Conner Boat Show
Show Location:
La Conner Marina, La Conner, Washington
Show Dates:
Saturday, August 06, 2022 through
Saturday, August 06, 2022
Show Times:
Saturday, August 6th: 10:00 am - 3:00 pm
Show dates and hours are subject to change.
Admissions:
Visitors – Come and enjoy this year's show for FREE!
Prices are subject to change.
The La Conner Boat Show will once again present and host their Weekend Boat Show on Saturday with more than 30 previously owned powerboats on display at the South Guest Dock. If your 'Dear Old Dad' loves boats then this would be a perfect weekend outing for him to enjoy. All weekend long you can purchase and enjoy hot dogs, sodas, bottled water and chips. Join us for a great event at the La Conner Marina in La Conner, Washington.
The La Conner Boat Show is an outstanding event organized in La Conner, Washington. It is a venue used to display a host of privately owned powerboats. So it will be a great opportunity for you to accompany your friends and family to witness such a splendid display. In case any of your friends or family members turns out to be a boat lover, this will surely be an icing on the cake for them. You can also attend the Classic Car Show at La Conner as well. Whether your love is classic cars, show cars, classic yachts, or work boats, you'll be surprised and delighted at this event. You'll discover true treasures afloat, on wheels, or simply on display.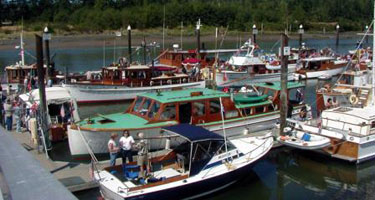 The show promises you a fun filled day. It is not only going to be a boat show but a classic car show too. The show will be attended by dealers and vendors from across the country. You can even buy one of the yachts or boats which will be displayed for sale, among them sailboats and trawlers. A show of such magnificence will surely cater to all your tastes and needs. If you are planning to buy a yacht or a boat, missing this opportunity will not be a good idea. This will be a hand on experience where you get to enjoy the show and buy a boat at a sensible price. So enjoy the beauty of the venue and have a great day at the show.
Information about this was obtained from various sources and is thought to be correct. We strongly recommend that you contact the show producer to confirm this information. See the bottom of this page for informaiton on how to contact the show producers.