The Annual Grand Rapids Boat Show is Michigan's longest running boat show and features hundreds of new boats including power boats, ski boats, pontoons, deck boats, runabouts and more. Current boat owners will find a huge selection of marine accessories, lifts, hoists, docks and boating products. The show will be held at the DeVos Place, Grand Rapids, Michigan.
To meet the demands of the changing technology, The Grand Rapids Boat Show, in their 68th year, is all set to give boaters an adrenaline rush by showcasing all the up to date developments in boats. Whether it is hull designs or power systems or all the creature comforts that you are looking for; you name it and you have it on this show.
With a focus on Great Lakes, this year will see the Grand Rapids Boat Show exhibiting their most expansive assortment of power boats ever. For those of you boaters who want to step out of Lake Michigan and conquer the beach now, Motor Yachts, Cruisers, Great Lakes Catamarans, Tugs, Trawlers and Day Boats can be of great interest. To add to this, the range of fishing boats, ski, pontoons, deck boats, wakeboard inboards, and runabouts is as enthralling and captivating as ever.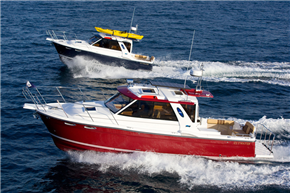 The Boating Lifestyle
For years now, the Grand Rapids Boat Show has stolen the limelight for the amazing boating lifestyle that it offers to both boaters and exhibitors alike. Based on the belief that 'an enormous boat show is all about a wonderful boating lifestyle'; the Grand Rapid Boats Show ensures that it incorporates the fervor for verve on water in its full essence. A platform where informed shoppers get in touch with exhibitors who are willing to let them explore things before they buy is conducive for a lucrative business and a venerable association.
Overall, the Grand Rapids Boat Show seems to be very promising event.
Some Highlight for 2014: There will be a Live Shark Encounter and the Michigan Hydroplane Racing Association will have two boats on display. You will have an opportunity to meet professional wake boarders Rusty Mailoski and Erik Ruck along with the Grand City Show Skiers. Additionally, there will be a display of impressive classic and antique boats presented by the Water Wonderland Chapter of the Antique & Classic Boat Society. The Michigan Maritime Museum will present a display of maritime history including the Great Lakes and local waterways.
Information about this was obtained from various sources and is thought to be correct. We strongly recommend that you contact the show producer to confirm this information. See the bottom of this page for informaiton on how to contact the show producers.