Fort Lauderdale Boat Show
Show Location:
Bahia Mar Yachting Center + 6 locations, Ft. Lauderdale, Florida
Show Dates:
Wednesday, October 25, 2023 through
Sunday, October 29, 2023
Show Times:
PRIME TIME PREVIEW
Wed. Oct 25th: 12:00 pm - 7pm
(Ticket valid any show day)
GENERAL ADMISSION
Thur. Oct 26th: 10am - 7pm
Fri. Oct 27th: 10am - 7pm
Sat. Oct 28th: 10am - 7pm
Sun. Oct 29th: 10am - 6pm
Show dates and hours are subject to change.
Admissions:
PRIME TIME WEDNESDAY PREVIEW (Oct 25th): $60 per adult tax included valid Wednesday-Sunday

Adult One-Day Ticket: $39*
Adult Two-Day Ticket: $66*
Child One-Day Ticket: $15*
Children (under 6): Free if accompanied by an adult.
*Per Adult Tax Included Valid Thursday-Sunday
Prices are subject to change.
MarineSource Members In Attendance:
(click on broker name to view their available listings)
Ft. Lauderdale Area MarineSource Members:
Looking for a Boat Dock, Boat Slip, Marina Dock Space for Rent or Sale?
FREE DOCK and SLIP SEARCH!
The Fort Lauderdale Boat Show is the boat show which many proclaim to be the world's biggest boat show will once again be hosted in the "Yachting Capital of the World"!
The show consistently features billions of dollars' worth of yachts, super yachts, mega-yachts along with a plethora of, power boats and sailboats. Boat builders from around the world will be featuring a wide variety of their watercraft which will include everything from runabouts, performance boats, cabin cruisers, express cruisers and trawlers to superyachts.
Additionally there will be electronics, engines and thousands of marine accessories from major marine manufacturers, distributors and builders from around the world. There will be exhibits ranging from yacht builders, yacht brokers and even exotic cars.
The Show covers seven locations encompassing over 3 million square feet of exhibit space. An extensive transportation network includes shuttle buses, water taxis and riverboats which make seeing the entirety of the show enjoyable.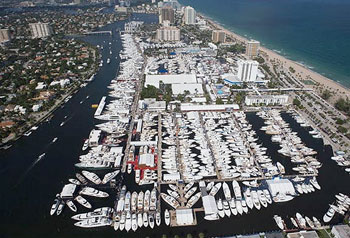 Find the best area boating lifestyle locations visit our
Ft. Lauderdale Boating Activities page.
Past show highlights included:
~ IGFA's School of Sportfishing
~ The Blue Wild Dive Show
~ Hook the Future's Kids Fishing Clinic
~ Seafair, a showcase for the display of fine art, jewelry and fashion for yachts and homes
~ and much more…
Rightfully, Fort Lauderdale, Florida, continues to live up to its nickname as "Yachting Capital of the World" by hosting the Fort Lauderdale International Boat Show.
Information about this was obtained from various sources and is thought to be correct. We strongly recommend that you contact the show producer to confirm this information. See the bottom of this page for informaiton on how to contact the show producers.