Duluth Boat Show
Show Location:
Duluth Entertainment Convention Center, Duluth, Minnesota
Show Dates:
Thursday, February 17, 2022 through
Sunday, February 20, 2022
Show Times:
Thursday: 5:00 pm - 9:00 pm
Friday & Saturday: 10:00 am - 9:00 pm
Sunday: 10:00 am - 4:00 pm
Show dates and hours are subject to change.
Admissions:
Adults: $10.00
Children (6-17): $6.00
Children (5 and under): FREE
Prices are subject to change.
The Duluth Boat Show, officially dubbed the Duluth Boat, Sports, Travel and RV Show, will feature the latest in boats of every shape and size so if you want to take the family out fishing this is the place to start. Vendors will be offering boating accessories, tackle, fishing and hunting camps, sporting equipment, motorcycles, RV's, campers and recreational vehicles too. The show also offers fishing seminars given by the pros and stage shows with known and popular personalities. The show is located at the Duluth Entertainment Convention Center in Duluth, Minnesota.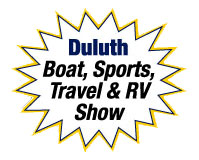 2014 Highlights: This year's featured stage performance will be the Street Corner Symphony, an a cappella group, based out of Nashville, Tennessee. They group gained internationally prominence in 2010 after they were runners up on NBC's, The Sing-Off. Since that success on The Sing-Off, Street Corner Symphony has been creating records and performing for enthusiastic audiences across the country and around the world. Their music appeals to young and old owing to its wide range of styles.
2013 Show Features: Entertainment will include a stage show featuring Lee and Elaine Roy, a brother and sister duo. The Roys come from a family knonw for the wonderful grass roots sound. There will also be a variety of animals including, but not limited to, a baby black leopard, young olive baboon, a variety of lemurs, a coati mundi and many more. You will also have the opportunity to visit the daily stage show featuring the nationally known six man a cappella group 'Street Corner Symphony'.
Information about this was obtained from various sources and is thought to be correct. We strongly recommend that you contact the show producer to confirm this information. See the bottom of this page for informaiton on how to contact the show producers.