Chicago Boat Show
Show Location:
McCormick Place—South Building, Chicago, Illinois
Show Dates:
Wednesday, January 12, 2022 through
Sunday, January 16, 2022
Show Times:
Wednesday: 2:00 pm - 8:00 pm
Thursday: 11:00 am – 9:00 pm
Friday: 11:00 am – 9:00 pm
Saturday: 10:00 am – 8:00 pm
Sunday: 10:00 am – 5:00 pm
Show dates and hours are subject to change.
Admissions:
Adults (13 and older): $15.00
Kids (12 and younger): Free (when accompanied by a paid adult)
Senior Day, Wednesday, January 6th, 62+ $10.00
Prices are subject to change.
Advance Purchase and Discount Tickets
2021 Show has been Canceled. We look forward to seeing you in 2022!
The Chicago Boat, Sports & RV Show features hundreds of current model year boats to see and explore, inside and out. You will also find the latest in boating products, fishing gear, accessories for boaters and marine electronics. You will find virtually everything you require for your activities outdoors. This year the Strictly Sail Chicago and the Chicago Boat, Sports & RV Show have joined forces to bring you the best in boating, RVing and sailing all under one roof at the McCormick Place in the North Building.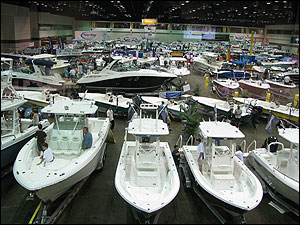 Whether you are an enthusiastic outdoorsman impatiently waiting to see what's new or you are just looking for an excuse to escape winter for a day, this is the show for you. This 5-day event transforms McCormick Place into a marketplace for outdoor fun. It's the best place to peruse and purchase everything you require for your outdoor adventures! See and board hundreds of boats and find boating gear and accessories for your favorite outdoor activities, boating, fishing, sailing and more. Lodges and resorts will be represented to assist you in planning your next trip or reserve your complete vacation. Come and shop, compare and get more for your dollar.
Information about this was obtained from various sources and is thought to be correct. We strongly recommend that you contact the show producer to confirm this information. See the bottom of this page for informaiton on how to contact the show producers.