The Chicago Boat, Sports & RV Show features hundreds of current model year boats to see and explore, inside and out. You will also find the latest in boating products, fishing gear, accessories for boaters and marine electronics. You will find virtually everything you require for your activities outdoors. This year the Strictly Sail Chicago and the Chicago Boat, Sports & RV Show have joined forces to bring you the best in boating, RVing and sailing all under one roof at the McCormick Place in the North Building.

Whether you are an enthusiastic outdoorsman impatiently waiting to see what's new or you are just looking for an excuse to escape winter for a day, this is the show for you. This 5-day event transforms McCormick Place into a marketplace for outdoor fun. It's the best place to peruse and purchase everything you require for your outdoor adventures! See and board hundreds of boats and find boating gear and accessories for your favorite outdoor activities, boating, fishing, sailing and more. Lodges and resorts will be represented to assist you in planning your next trip or reserve your complete vacation. Come and shop, compare and get more for your dollar.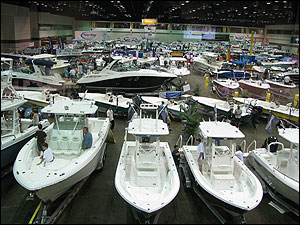 2014 Show Features: See the Miss GEICO racing boat; drop a line in the Huck Finn trout pond; attend boater's education seminars; visit the lighthouse & harbor experience and much more. Use the link below for up to date information. Also for 2014, the show is promoting Discover Boating for less than $250/month! Think owning a boat is not within your reach? You may want to rethink that. When it comes to pleasurable ways to devote your leisure time and dollars, boating is far more affordable than many people realize. Be sure to visit the special showcase of boats you can own and finance for less than $250 per month.
Information about this was obtained from various sources and is thought to be correct. We strongly recommend that you contact the show producer to confirm this information. See the bottom of this page for informaiton on how to contact the show producers.