Chattanooga Boat & Sport Show
Show Location:
Chattanooga Convention Center, Chattanooga, Tennessee
Show Dates:
Thursday, February 02, 2023 through
Sunday, February 05, 2023
Show Times:
Thursday: 2:00 pm - 8:00 pm
Friday: Noon - 8:00 pm
Saturday: 10:00 am - 8:00 pm
Sunday: 11:00 am - 5:00 pm
Show dates and hours are subject to change.
Admissions:
Adults: $14
Children (4-6): $6
Weekend Pass: $24
Prices are subject to change.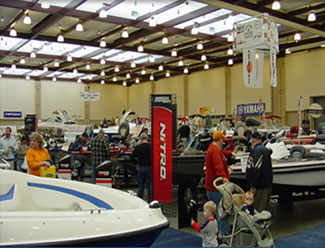 The Chattanooga Boat Show features all makes and models of the newest boats including power boats, fishing boats, ski boats, personal watercraft, pontoon boats and cruisers all displayed in a 100,000 square foot space. Exhibitors and vendors will be offering boating products and boating accessories plus activities for everyone. Join us at the Chattanooga Convention Center in downtown Chattanooga for the longest running boat show in the Tennessee Valley area.
Information about this was obtained from various sources and is thought to be correct. We strongly recommend that you contact the show producer to confirm this information. See the bottom of this page for informaiton on how to contact the show producers.