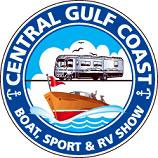 The Annual Central Gulf Coast Boat Show will be packed with the latest selection of boats, fishing tackle, boating equipment and products, jet skis, golf carts, ATVs, scuba gear, resort information and guides. The show is located at the Lake Charles Civic Center in Louisiana and parking is free.
The Central Gulf Coast Boat, Sport & RV Show is one of the largest boat shows on the Gulf Coast encompassing over 100,000 sq. ft. of current model year boats and fishing tackle. Beginner and experienced fishermen alike will appreciate observing through the glass walls of the 5,000 gallon Bass Tub to see Bass striking at lures. Additionally, clinics will be offered daily and will be presented by nationally recognized fishing experts.
Information about this was obtained from various sources and is thought to be correct. We strongly recommend that you contact the show producer to confirm this information. See the bottom of this page for informaiton on how to contact the show producers.