Central New York (CNY) Winter Boat Show
Show Location:
New York State Fairgrounds, Syracuse, New York
Show Dates:
Thursday, February 20, 2020 through
Sunday, February 23, 2020
Show Times:
Thursday: 1:00 pm - 9:00 pm
Friday: 1:00 pm - 9:00 pm
Saturday: 10:00 am - 9:00 pm
Sunday: 10:00 am - 5:00 pm

Show dates and hours are subject to change.
Admissions:
Adults: $10
Children (13 and under): FREE!

There will be plenty of free parking and shuttles too!
Prices are subject to change.
MarineSource Members In Attendance:
(click on broker name to view their available listings)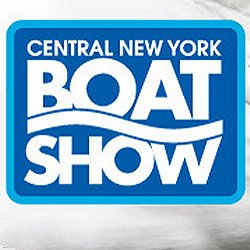 The Central New York (CNY) Boat Show and Sale will showcase hundreds of new model power boats and sail boats, including cruisers, pontoon boats, sport boats, personal watercraft with a few luxury motor yachts on display. This is the largest and oldest boat show in New York State.
While features for the Central New York Boat Show and Sale continue to be finalized, the show will also offer the boater the finest in marine accessories and water toys. Electronics and canvas suppliers will be there to advise and suggest. Trailer sales and dock contractors are featured in all three buildings. Outboard and inboard engine specialists are exhibiting the latest in power for everything from a canoe to a cruiser.
Financing specialists and insurance representatives will also be on hand to advise you on the protection of your recreational investment. The Central New York Boat Show and Sale will be held on the New York State Fairgrounds in three buildings the Toyota Exhibit Building, the Center of Progress Building, and the John Deere Horticulture Building in Syracuse, New York.
Information about this was obtained from various sources and is thought to be correct. We strongly recommend that you contact the show producer to confirm this information. See the bottom of this page for informaiton on how to contact the show producers.