Carolina Fall Boat Show
Show Location:
North Carolina State Fairgrounds, Jim Graham Building, Raleigh, North Carolina
Show Dates:
Friday, August 19, 2022 through
Sunday, August 21, 2022
Show Times:
Friday: 10:00 pm - 7:00 pm
Saturday: 9:00 am - 6:00 pm
Sunday: 10:00 am - 5:00 pm
Show dates and hours are subject to change.
Admissions:
Adults: $8.00
Seniors/Military: $7.00
Children (under 12) : FREE
Admission good for all three days with return pass
Parking is always FREE!
Prices are subject to change.
Carolina Fall Boat Show & Sale
Raleigh, North Carolina
The Carolina Fall Boat Show & Sale is a boat show that presents one of the best selections of boats in the Carolinas! This is North Carolina boating's largest inventory clearance. This is a 3 day experience that puts the profits in your pocket. There will be hundreds of thousands of dollars' worth of boats deeply discounted So is time for you to get started with your plans as this fast approaching show will surely leave you with a boating experience of a lifetime. The participating dealers will display a huge selection of boats and other watercraft at deep discounts along with onsite financing. So, what's keeping you away then? It's time to purchase a boat and get onto the water.
Additionally, 80 exhibitors will be present to showcase their marine related products and accessories to you. You also have the added advantage of browsing through the assorted display of articles and boating related accessories. The assorted products and accessories will cover a wide range from boats to outboard motors along with trailers and a host of other related items for boaters. The varieties of boats will include ski boats, pontoons, salt water boats, jet skis, bay boats and the selection goes on. It is a great place for you to exercise your boating interests. So if you are any kind of a boat lover, missing this show would not be a good idea. It is an absolutely enjoyable and grand destination as the show will have a number of new exhibitors.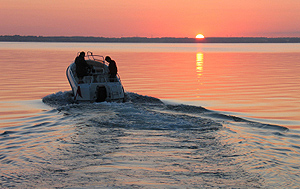 From boat builders to dealers and suppliers the participants list is massive. Take this opportunity to spend some time with your family; see you there!
Remember, boat ownership is a family investment that returns outstanding dividends every minute on the water. Bring your entire family out for the most exciting and relaxed boat shopping experience around. Come on aboard and shop the over 150 boats that will be on display at the Carolina Fall Boat Show.
Information about this was obtained from various sources and is thought to be correct. We strongly recommend that you contact the show producer to confirm this information. See the bottom of this page for informaiton on how to contact the show producers.