Baltimore Boat Show
Show Location:
Baltimore Convention Center, Baltimore, Maryland
Show Dates:
Thursday, January 20, 2022 through
Sunday, January 23, 2022
Show Times:
Thursday: 10:00 am - 8:00 pm
Friday: 10:00 am - 8:00 pm
Saturday: 10:00 am - 8:00 pm
Sunday: 10:00 am - 5:00 pm
Show dates and hours are subject to change.
Admissions:
Adult: $14.00
Children 12 and younger: FREE with a paid adult admission
Prices are subject to change.
Baltimore Area MarineSource Members:
The Baltimore Boat Show features the latest in power boats, sailboats, custom yachts, electric boats, inflatable boats, jet boats, Jon boats, kayaks, personal watercrafts, engines, trailers, boating products, marine accessories, boating and fishing gear. The show will be held at the Baltimore Convention Center in Baltimore, Maryland.
The much awaited boat browsing and boat buying carnival is back again. The Baltimore Boat Show at Baltimore, Maryland will play host to the best of the boating industry and will provide a chance to all the boat lovers to experience the latest in boating.
Visitors at the show can expect to have fun amongst the newest developments in the boating and marine sports. Boats, Yachts, Fishing equipments, Marine electronics, and a lot of exciting accessories will be on display for sale and exhibit at the show.
Manufacturers and suppliers from across the world will showcase their latest innovations and newest products with boats and yachts of all sizes. Marine equipment and water sport accessories will be up for grabs at the best ever deals for the attendees at the show.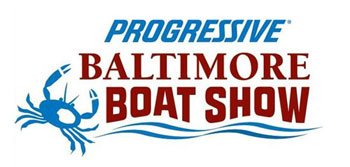 Visitors can browse booths showcasing the latest in engines, marine electronics, fishing tackle and gear, too. There will be something on sale and on display for everyone at the show. Boaters and fishermen can browse the displays and compare hundreds of boats for all budgets and lifestyles, as per their needs.
Seminars, workshops and educational activities for boaters and water sport lovers will be organised for visitors of all ages. For those looking to enter the world of water sports and boating, the large number of industry professionals will give sessions to train. Boat lovers, who are do-it-all-yourselfers, can attend workshops educating them everything from boating to maintaining, to repairing and upgrading their own boats.
Thrills, fun and laughter, for all ages! Shows presented by professionals, will make it a great family fun affair.
Information about this was obtained from various sources and is thought to be correct. We strongly recommend that you contact the show producer to confirm this information. See the bottom of this page for informaiton on how to contact the show producers.