Palm Beach Marine Flea Market and Boat Show
Show Location:
South Florida Fairgrounds, West Palm Beach, Florida
Show Dates:
Saturday, November 14, 2020 through
Sunday, November 15, 2020
Show Times:
Saturday & Sunday: 9:00 am - 5:00 pm
Show dates and hours are subject to change.
Admissions:
Adults $10.00
Children (12 and under): Free
Prices are subject to change.
West Palm Beach Area MarineSource Members:
---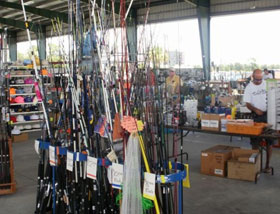 The Palm Beach Marine Flea Market and Boat Show is one of the largest events in Florida. The show will feature over a hundred new and used boats displayed by private individuals and marinas, boating equipment, marine accessories, boating apparel, and fishing tackle. There will also be a plethora of fishing gear, nautical art and marine artifacts plus a selection of great Seafood. This event will be held at the South Florida Fairgrounds in West Palm Beach and parking is free.
Information about this was obtained from various sources and is thought to be correct. We strongly recommend that you contact the show producer to confirm this information. See the bottom of this page for informaiton on how to contact the show producers.