Montreal Boat Show
Show Location:
Palais des congrès de Montréal, Montreal, Quebec
Show Dates:
Thursday, February 09, 2023 through
Sunday, February 12, 2023
Show Times:
Thursday & Friday: 11:00 am - 9:00 pm*
Saturday: 10:00 am - 8:00 pm*
Sunday: 10:00 am - 5:00 pm*
*Please take note that the ticket booth closes an hour before the closing time indicated above.
Show dates and hours are subject to change.
Admissions:
Adults: $18
Seniors (65 +) / Students (13 to 17 year old): $14
Children (12 and under): Free
Family Package (2 general admission and 2 teenagers): $42
Special purchase of 2 tickets after 5:00 pm (5:00 pm to 7:00 pm) on Saturday the 6th: $9 each
Prices are subject to change.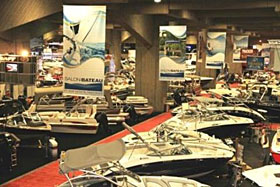 The Montreal Boat and Water Sports Show is the largest event of its kind in Quebec. The show features hundreds of boats and exhibitors. All types of watercraft and boats from cruisers to kayaks or fishing boats in addition to some sailboats as well. There will be boating service providers and marine accessories to help you prepare for your next summer season. You can even get information on lakes and rivers, rules and regulations. If you enjoy boating and sailing, you must make a point to attend this show!
Information about this was obtained from various sources and is thought to be correct. We strongly recommend that you contact the show producer to confirm this information. See the bottom of this page for informaiton on how to contact the show producers.