Indianapolis Boat, Sport & Travel Show
Show Location:
Indiana State Fairgrounds, Indianapolis, Indiana
Show Dates:
Friday, February 14, 2020 through
Sunday, February 23, 2020
Show Times:
Friday, 14th: 1:00 pm - 8:00 pm
Saturday, 15th: 10:00 am - 8:00 pm
Sunday, 16th: 10:00 am - 5:00 pm
Monday-Thursday 17th-20th: 12:00 pm - 8:00 pm
Friday, 21st: 12:00 pm - 8:00 pm
Saturday, 22nd: 10:00 am - 8:00 pm
Sunday, 23rd: 10:00 am - 5:00 pm
Show dates and hours are subject to change.
Admissions:
$15 – General / Adult Admission at Box Office
$13 – General / Adult ONLINE Purchase
$9 – Children (6-12) ONLINE Purchase
FREE – Children (5 & under)
2 Day Tickets: $24.00
(good for multiple days, but limited to one entrant scan per day)
Prices are subject to change.
Group Sales & other ticket promotions
The Indianapolis Boat, Sport and Travel Show features hundreds of exhibitors covering over 650,000 square feet, an outdoor enthusiasts dream with acres of boats including everything from small jon boats, fishing rigs and wakeboard boats to 45 foot express cruisers and RV's plus fishing tackle, boat products, personal watercraft, wakeboard and ski accessories, docks, lifts, hunting gear and paddle sports equipment. The show also features educational fishing seminars, entertaining attractions, interactive games, information on travel and outdoor destinations. This show is the largest outdoor event of its kind anywhere and offers great deals on boats and fishing lures you just can't find anywhere else. Bring the family or a buddy to the Indiana State Fairgrounds in Indianapolis, Indiana to the best travel, sport and boat show of the year and one you don't want to miss.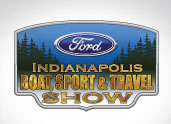 Information about this was obtained from various sources and is thought to be correct. We strongly recommend that you contact the show producer to confirm this information. See the bottom of this page for informaiton on how to contact the show producers.