Rochester Boat Show
Show Location:
Rochester Riverside Convention Center, Rochester, New York
Show Dates:
Thursday, January 30, 2020 through
Sunday, February 02, 2020
Show Times:
Thursday & Friday: 11:00 am - 9:00 pm
Saturday: 10:00 am - 9:00 pm
Sunday: 10:00 am - 5:00 pm
Show dates and hours are subject to change.
Admissions:
Adults: $7.00
Seniors: $5.00
Children (under 12): FREE with paid admission
Parking is Free!
Prices are subject to change.
The Annual Rochester Boat Show will be featuring hundreds of new boats on display from the area's top boat dealers including sport boats, cruisers, fishing boats, pontoon, deck boats, performance boats, personal watercraft, ski boats, Jet boat, kayaks and canoes offering factory incentives and rebates. The show will also have exhibitors with hoists, docks, outboard motors, boating accessories, marine products and on-site financing. The show will be located at the Riverside Convention Center in Rochester, New York and parking is free at the South Avenue Garage validate at the show.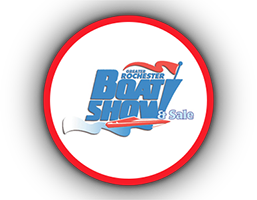 Information about this was obtained from various sources and is thought to be correct. We strongly recommend that you contact the show producer to confirm this information. See the bottom of this page for informaiton on how to contact the show producers.