Myrtle Beach(Grand Strand)Boat Show***CANCELLED***
Show Location:
The Myrtle Beach Convention Center, Myrtle Beach, South Carolina
Show Dates:
Friday, January 08, 2021 through
Sunday, January 10, 2021
Show Times:
Friday: 10:00 am - 7:00 pm
Saturday: 9:00 am - 7:00 pm
Sunday: 10:00 am - 5:00 pm
Show dates and hours are subject to change.
Admissions:
Adults: $9.00
Seniors (65+): $8.00
Children (under 12): $5.00
Children (under 3): Free
Prices are subject to change.
Myrtle Beach Area MarineSource Members:
***2021 Myrtle Beach Boat Show has been cancelled due to the current covid 19 restrictions.***
The Myrtle Beach Boat Show and Grand Strand Boat & Sportsman Expo at the Myrtle Beach Convention Center will be featuring the usual outstanding selection of the must up to date boats, accessories and boating technology that will include performance boats, fishing boats, bow riders, pontoons and yachts. Experienced boating and marine vendors will be on hand with hunting, biking, and camping gear, boating products, fishing gear, fishing tackle every marine accessory needed for a safe and fun boating season. A plethoria of special events and seminars will keep the entire family entertained.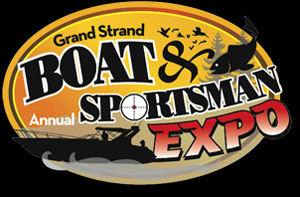 Information about this was obtained from various sources and is thought to be correct. We strongly recommend that you contact the show producer to confirm this information. See the bottom of this page for informaiton on how to contact the show producers.