The Central Washington Sportsmen Show will be featuring special attractions and the latest in outdoor gear for the sportsman along with the newest in aluminum and fiberglass fishing boats, boat electronics and accessories and motors. Guides and representatives from hunting and fishing lodges from all areas in the Northwest will be present. The show will offer many seminars which will allow you access to the best in hunting and fishing information shared by outdoor professional. There will also be special attractions and things for your kids to enjoy. The Central Washington Sportsmen Show will be hosted at the Yakima Sun Dome in Yakima, Washington.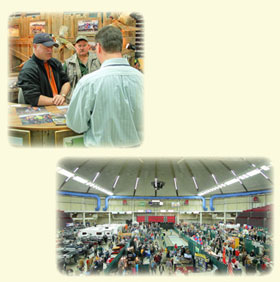 Encompassing over 100,000 square feet, the Yakima SunDome will be packed with fishing and hunting attractions and demonstrations which will include the areas only horn and antler competition. This will be an excellent opportunity for you to peruse the most up to date hunting and fishing equipment including boats, outboard motors and boating, fishing, camping and hunting accessories.
Information about this was obtained from various sources and is thought to be correct. We strongly recommend that you contact the show producer to confirm this information. See the bottom of this page for informaiton on how to contact the show producers.