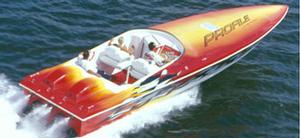 Profile Boats Information
Profile Boats: For over twenty years Profile Boats were painstakingly handcrafted in one of the most unlikely places on earth: Sumner Iowa. Profile's offshore performance boats have been created one at a time on a completely custom basis for discerning clients since 1982.

Profile Boats has since gone out of business however their boats are still available on the market as used and it is rumored that both the V-bottom and catamaran hull molds were sold off and are still around.

Other Profile Boat Resources:
Click here for Profile Boats for Sale