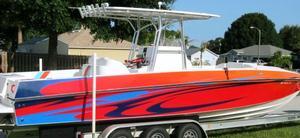 Blackhawk Boats Information
Blackhawk Boats provides their customers with very high quality performance fishing boats having unique standard conveniences and features, utilizing proven hand crafted and state of the art manufacturing techniques at a competitive price for the value received.
Blackhawk Boats uses only the finest and most advanced materials, technologies, and parts to construct their boats. This boat is constructed with all composite materials and hand laid fiberglass.

Click here for Blackhawk Boats for Sale