FREE!

2014 Ocean City Boat Show | Ocean City, Maryland

Show Dates: Friday, February 14, 2014 through Sunday, February 16, 2014
Show Location: Ocean City Convention Center, Ocean City, Maryland
Show Hours:
Friday: 11:00 am - 7:00 pm
Saturday: 10:00 am - 7:00 pm
Sunday: 10:00 am - 5:00 pm

Admission:
Admission only $10.00
Weekend Pass $15.00

Before the show get information on:

Prices, dates & times subject to change
---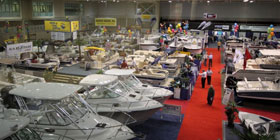 The Ocean City Boat Show is the number one inside boat show on the eastern shore and features hundreds of new model boats by more than 50 boat dealers including bass boats, sportfish, sport cruisers, yachts, center consoles, cuddys and performance boats. The show also features boat accessories, marine products and fishing tackle, fishing gear, boat lifts, boat repair, electronics, detailing, insurance, boat and marine services. The Ocean City Convention Center in Ocean City, Maryland is the place to be to catch this boat show.
For Additional Information
Visit the Ocean City Boat Show Website
E-mail Charlie Dorman
Call 410-632-3676
Information about the Ocean City Boat Show was obtained from various sources and is thought to be correct. We strongly recommend that you contact the show producer to confirm this information. See the bottom of this page for informaiton on how to contact the show producers.