Show Hours:
Thursday: 4:00 - 9:00 pm
Friday: 12:00 pm - 9:00 pm
Saturday: 10:00 am - 9:00 pm
Sunday: 10:00 am - 5:00 pm

Admission:
Adults: $12
Children (12 and under): Free with an adult.

Before the show get information on:
---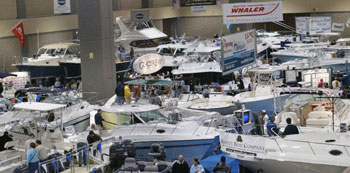 The Hartford Boat Show features the best collection of the newest boats on the market including center consoles, fishing boats, luxury cruisers, power boats, personal watercraft and more plus the latest in fishing gear, fishing tackle and boating accessories. The show also offers free educational seminars and information on fiberglass repair, diesel maintenance, insurance terminology & coverage explained, basics of GPS, how to read a chart, on board weather forecasting, basics of marine radar and trailering. The Connecticut Convention Center in Hartford is where the boat show will be held.
Information about the Hartford Boat Show was obtained from various sources and is thought to be correct. We strongly recommend that you contact the show producer to confirm this information. See the bottom of this page for informaiton on how to contact the show producers.