Show Hours:
Friday: 12:00 pm - 8:00 pm
Saturday: 9:00 am - 7:00 pm
Sunday: 12:00 pm - 5:00 pm

Admission:
Adults: $10.00
Children (under 12): Free
Seniors (70 and older): $5.00

Before the show get information on:
---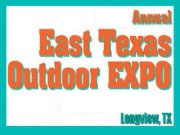 The Annual East Texas Boat RV and Camping Expo is the largest show in the East Texas Region and features hundreds of boats and yachts, RV/travel trailers and motorcycles. The expo also has interactive activities including the KidsFish Tank plus special exhibits, live entertainment and concessions at both buildings. The show has everything you need for outdoor recreation. The expo will be held at the Maude Cobb Activity Center and Exhibition Hall. Parking is available at both buildings plus a shuttle bus service will run continuously between the two.
Information about the East Texas Boat Expo was obtained from various sources and is thought to be correct. We strongly recommend that you contact the show producer to confirm this information. See the bottom of this page for informaiton on how to contact the show producers.