Show Hours:

Friday: 1:00 pm - 9:00 pm
Saturday: 10:00 am - 7:00 pm
Sunday: 10:00 am - 5:00 pm

Admission:

Adults: $9.00
Children 6-12: $4.00
Children 5 and under: FREE
St. Paul and Minnesota Boats for Sale
---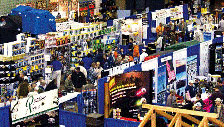 The St. Paul Ice Fishing and Winter Sports Show features a plethora of new ice fishing products including rods and reels, fishing accessories, fish houses, digital fish finders, tackle, and augers.
Head over to the St. Paul RiverCentre to peruse and obtain some great bargains offered by more than 190 exhibitors with products and services dedicated to the dyed-in-the-wool ice fishing and winter sports aficionado. View new and innovative ice fishing products, including underwater cameras, accessories, apparel and much more!
The show will feature high quality ice fishing merchandise at a variety of price points to fit the requirements of any budget. Whether you are an passionate fisherman looking for a few new accessories, an knowledgeable angler in need of an upgrade in your equipment or you are totally new to the art of ice fishing, you will find what you need at this show!
For 2013 there is a special VIP Preview. On Saturday, December 7 from 8:00am-10:00am there will be a special VIP Preview. Take this opportunity to shop special "early bird" deals and discounts offered by exhibitors.
Tickets for the VIP Preview are $15.00 and quantities are strictly limited to a first come, first served basis. To obtain your VIP Preview ticket contact Michelle Quill at 847-229-6731 or email michelle.quill@goodsam.com OR CLICK HERE to fill out an order form and fax it to 270-483-4723. The deadline for registration for this special VIP preview event is Friday, November 22 at 5:00pm.
Information about the St. Paul Ice Fishing and Winter Sports Show was obtained from various sources and is thought to be correct. We strongly recommend that you contact the show producer to confirm this information. See the bottom of this page for informaiton on how to contact the show producers.