Show Hours:
Friday: 4:00 pm - 9:00 pm
Saturday: 9:00 am - 7:00 pm
Sunday: 9:00 am - 5:00 pm

Admission:
Adults: $10.00
Children (14 and under): FREE

A parking fee is charged per car by Dane County.

Before the show get information on:
---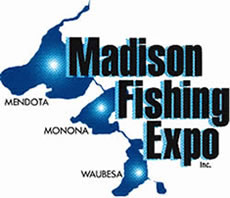 The Madison Fishing Expo features a diverse lineup of fishing tackle, equipment and boats from the industries' leading manufacturers and dealers.
The Madison Fishing Expo is an all volunteer, non-profit organization that donates all of its show proceeds to fund fishing related projects throughout South Central Wisconsin.
The largest show of its kind in the Midwest. Since 1985!
Great deals on tackle, trips, and boats!
Youth Activities!
Information about the Madison Fishing Expo was obtained from various sources and is thought to be correct. We strongly recommend that you contact the show producer to confirm this information. See the bottom of this page for informaiton on how to contact the show producers.